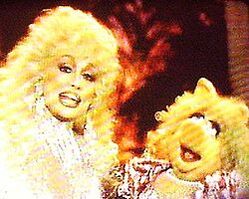 Dolly is a television variety show that ran on ABC during the 1987-1988 season featuring Dolly Parton.

Overview[edit]
The show was an attempt at a traditional variety show, featuring music, comedy skits and various guest stars. It had been roughly a decade since the last successful variety series, The Carol Burnett Show, The Sonny & Cher Comedy Hour and Cher had gone off the air, and it was regarded as a gamble to try to revive the genre. Banking on Parton's talent and appeal, however, ABC paid the performer a reported $44 million for a two-year contract.
It was acknowledged that a great deal of talent and work went into producing the show, but the initially high ratings during the first few episodes steadily declined, and despite many format changes and other attempts to create interest, ratings did not improve. Halfway through the run, Parton, who retained creative control over the show, took command and jettisoned many of the lavish, splashy segments that she felt were not working in favor of a more "down home" feel. By this time, however, many of the initial viewers had already stopped watching. To bolster the odds they brought in veteran variety show writers Buddy Sheffield, John Aylesworth, Jack Burns and producer Nick Vanoff. Around this same time, Parton also hired then-relatively-unknown Brett Butler as one of the writers. Bruce Vilanch and Fannie Flagg were also on the writing staff.
Guest stars included Tammy Wynette, Merle Haggard, Tyne Daly, Bruce Willis, Emmylou Harris, Linda Ronstadt, Tom Petty, Tom Selleck, the Neville Brothers, Dudley Moore, and Oprah Winfrey.
The opening theme song was Parton's 1978 hit, "Baby I'm Burning" (later to be replaced with "Hoedown-Showdown"); as with her 1976 series, Parton closed each week with her signature song, "I Will Always Love You."
Though most of the show's episodes were taped in ABC's studios in Los Angeles, a numbers of "special" episodes were recorded on location, including one in Hawaii, one in New Orleans, one in Nashville (featuring most of the cast of the Grand Ole Opry), and a Thanksgiving episode in Parton's hometown of Sevierville, Tennessee, featuring most of her extended family.
Full list of guests[edit]
Tammy Wynette Loretta Lynn Ned Beatty Jackée Harry Jon Lovitz Juice Newton Miss Piggy Jerry Reed Hulk Hogan Ed Koch Dudley Moore Paul Reubens (as Pee-Wee Herman) Oprah Winfrey Whoopi Goldberg Burt Reynolds Emmylou Harris Linda Ronstadt Daniel Rosen Bruce Willis Patrick Duffy Christine Ebersole Patti LaBelle Delta Burke The Desert Rose Band Tyne Daly Alabama (band)
Kermit the Frog

Allyce Beasley The Smothers Brothers Willie Nelson Louis Nye Mac Davis Burl Ives Ricky Scaggs Robert Mandan Joe Piscopo The Neville Brothers Tom Jones Lee Majors Paul Rodriguez Brett Butler Tom Petty Glen Campbell Lee Horsley Brenda Lee Barbara Mandrell Smokey Robinson Tom Selleck Terrence Trent D'Arby Tom Petty and the Heartbreakers Nell Carter Kenny Rogers